This is a fun and easy sewing project. You can use up your fabric scraps and make yourself some great new accessories without spending a lot! 
For this project I used upholstery fabric from a sample catalog. Besides fabric you will also need ribbons or string and an assortment of buttons. 
Cut out a 20cm X 10.5cm (8 X 4 inches)rectangle. If you decide to go with a light weight fabric you can use interfacing either on the full rectangle (8 X 4 inches) or just one half of it (8 X 2 inches). The length of ribbon or cording required will depend on your button, add 1.5 cm (5/8 inch) to the circomference of the button to get the length you need. 
Fold one short edge of the fabric and press at 1cm (3/8 inch) towards the wrong side of the fabric. On the other short edge baste the cording 5mm from the edge making sure that the cording is centered, the placement will depned on the size and shape of your button. Here a few examples to get you inspired. 
Fold lengthwise with right sides together and stitch along the long side with a 1cm (3/8 inch) seam allowance. Press seam allowances open.
Make sure to center the long seam and sew the short edge with the cording with a 1cm (3/8 inch) seam allowance. Clip corners and turn right side out.
 Top stitch all the way around, make sure that the open end is well alined and that the opening has been properly stitched through all layers. 
Position the button at the desired place and hand stitch into place. 
And you're done! You can easily put your own spin on this project by adding lace or appliqués and other embelishments. 
I hope you enjoyed this project!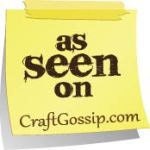 Sign up for my newsletter to make sure you never miss any of the next tutorials !